The circular vibrating screen for sale in South Africa is a kind of multi-layer vibrating screen with cyclic motion. The new type of circular vibrating screen is mainly used to screen granular materials such as gravel and sand. So many people call it a stone vibrating screen, a sand screen machine, a gravel separator, and so on. The circular vibrating screen adopts a cylindrical eccentric shaft exciter and an eccentric block to adjust the amplitude, the screening line is long, and the screening specifications are many.
It is suitable for the screening of sand and gravel in quarries, and can also be used for product classification in coal preparation, mineral processing, building materials, electric power, chemical industries, and other industries.
Working principle of circular vibrating screen
The vibrating screen uses a cylindrical eccentric shaft exciter and an eccentric block to adjust the structural amplitude. The mature rivet connection assembly frame structure improves the service life of the equipment, and the spring damping device reduces the impact force on the foundation.
The motor makes the eccentric block of the exciter rotate at high speed through the V-belt. The running eccentric block produces a great centrifugal force, which stimulates the screen box to produce a certain range of circular motion. The material on the screen is continuously thrown out by the impulse transmitted by the screen box on the inclined screen surface. When the material encounters the screen surface, the particles smaller than the screen hole pass through the screen to achieve classification.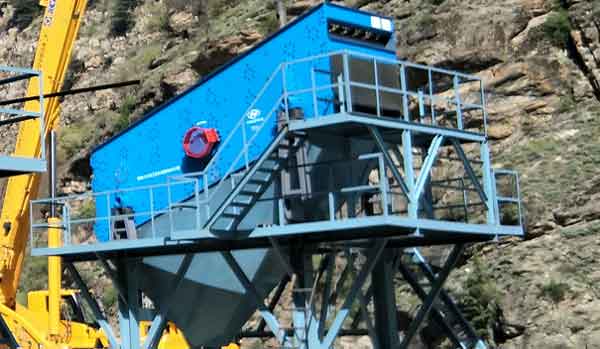 Working characteristics of circular vibrating screen
1. The block eccentricity is used as the exciting force, which is very strong.
2. The screen beam and screen box adopt high-strength bolts, with simple structure and convenient and quick maintenance.
3. Using tire coupling, flexible connection, and stable operation.
4. The machine adopts a structure with small amplitude, high frequency, and large inclination angle, with high screening efficiency, large processing capacity, long service life, low power consumption, and low noise.
The above introduces the working characteristics and working principles of the circular vibrating screen for sale in South Africa. If you want to know more about the circular vibrating screen, welcome to consult Longzhong Heavy Industry!
Send us a message
We will provide you with the most professional services.