The tailings dewatering screen is often used in the dehydration of metal tailings, the dehydration link of the ceramic raw material processing system, the tailings extraction treatment of the beneficiation plant, the processing system of quartz sand, the processing system of sand and gravel in hydropower stations, etc. The tailings dewatering screen can also be used with the thickener for dry tailings. It is a good dry tailing screen and tailings dry discharge equipment.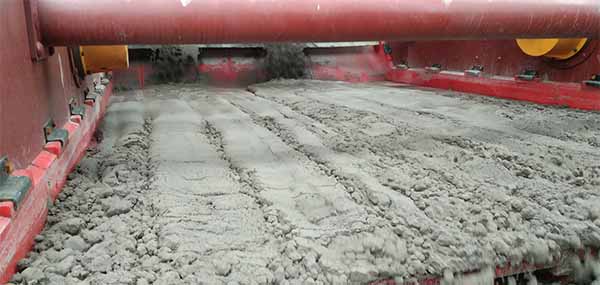 Usually, the sand and gravel plant needs to carry out the sand washing tail water treatment process. It is mainly the treatment of mud water, and the treatment process depends on the amount of sewage discharged. The sewage in the sand washing field is mainly separated from mud and water. Generally speaking, the sewage in the sand washing field is set up with a grid and then passed through the sedimentation tank
Sand washing muddy water treatment process
1. The mud water flows into the sedimentation tank through the pipeline, and is pretreated by a mud dehydrator to remove most of the fine sand and part of the mud in the mud water. The filtrate enters the secondary sedimentation tank through the drainage system.
2. The mud water in the settling tank is suspended mud, and the specific gravity difference with water is very small. It must be treated with a flocculant. After the mud water is treated by a dehydrator, the removal rate of mud and sand is more than 95%. The water in the clear liquid tank can be directly Go back to the sand washing system to truly achieve zero emissions.
Send us a message
We will provide you with the most professional services.