Limestone crushing production line
The basic configuration of limestone production line generally includes vibrating feeder, jaw crusher, impact crusher, vibrating screen, and belt conveyor. The related dust removal equipment and other equipment can also be configured according to the different needs of customers. The specific stone production line matching plan is configured according to the hardness, size, and application field of the material. Taking a limestone production line with an hourly output of 100-120 tons as an example, the standard configuration is as follows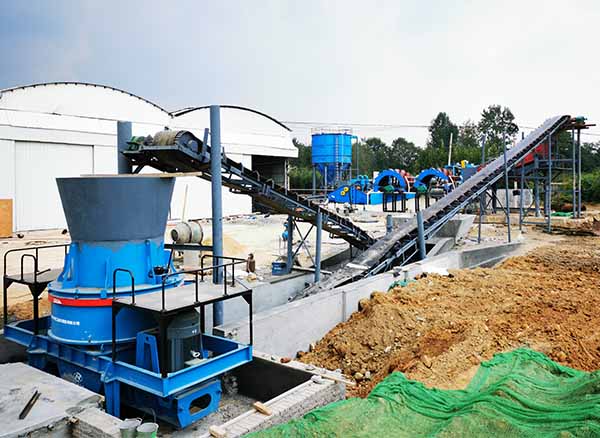 The corollary equipment
Zsw960*3800 vibrating feeder 1 set, PE600*900 jaw crusher 1 set, PF1214 impact crusher 1 set, YA1860 vibrating screen 1 set
The material is uniformly transported from the feeder to the jaw crusher for coarse crushing, and the crushed material is transported by the conveyor to the impact crusher for secondary crushing. Then it is transported to the vibrating screen for screening, the materials that meet the requirements are transported to different finished product piles, and the materials that do not meet the requirements are transported to the impact crusher for crushing again. The whole production line has the advantages of high crushing effect, fine grain shape of the finished product, and simple operation.
Limestone sand production line
In addition to the above crushing equipment, the basic configuration of limestone sand production line also requires the sand making machine. Currently commonly used is the new VSI sand making machine. Compared with the crushing production line, in the limestone sand production line, the material screened by the vibrating screen is transported to the sand making machine for sand making, and the finished product is screened by the vibrating screen and transported to the finished product pile.
How to select the proper limestone sand making equipment?
The selection of sand making equipment can be made according to the material characteristics. The new type impact sand making machine adopts the principle of stone beating. The broken product has excellent grain shape, which conforms to the standard of highway, railway and other materials, and also has the shaping effect of materials.
Related Products
Send us a message
We will provide you with the most professional services.