Due to the high degree of monomer dissociation of placer gold ore, the gold mining trommel screen generally only needs to sieve out large pieces of waste rock that do not contain gold. Then the gold ore is deposited on the sticky gold cloth or enters the centrifuge, shaker, and other select equipment to obtain a good indicator. Placer gold deposits are similar to placer tin deposits and are deposited on hillsides, river beds, and lakeshores, forming a certain concentration. It has an industrial mining value and is called the placer gold deposit.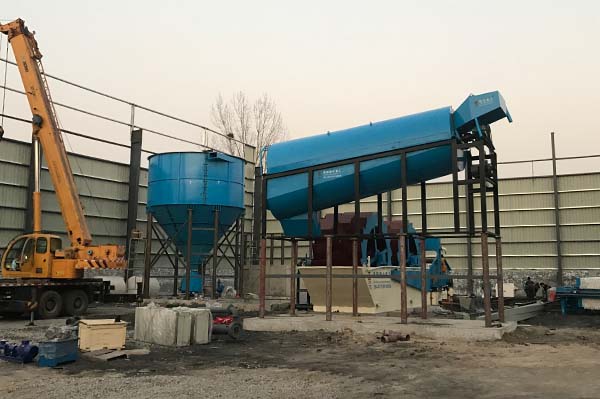 The application of gold trommel screen
Gold trommel screen overcomes the problem of screen sticking caused by various vibrating screens when screening wet materials, making the flushing water cleaner and scrubbing more thorough. The separation of concentrate and impurities is more complete, which improves the output and reliability of the screening system and improves the recovery rate of gold concentrate. The drum screen is suitable for screening bulk materials of various properties, such as gold ore, coal, coal gangue, coke, and other wet and easily clogged materials, especially for the screening of placer gold ore, sand tin ore, etc.
Gold mining trommel screen working principle
The drum screen uses a mechanical method to throw out large waste stones through continuous rotation, thereby saving the time of the sorting operation and greatly improving the next sorting operation. After putting the materials into the roller device, the materials are turned and rolled due to the inclination and rotation of the roller device. The materials are screened out one by one through different meshes, and the materials stuck in the screen holes can also be ejected to prevent clogging.
Gold mining trommel screen advantages
1. Adopting rolling screening principle. Small coefficient of friction, light wear, no blocking.
2. The roller support adopts the overall through-shaft structure, which runs smoothly, without vibration and low noise.
3. The internal screen adopts a split design, which is convenient for replacement and maintenance.
4. Safe and reliable operation, low power distribution, low energy consumption, and obvious energy-saving effect.
5. Large processing capacity, particularly a high recovery rate.
6. Lightweight, easy to move, and extremely convenient to mine anywhere.
Send us a message
We will provide you with the most professional services.