Trommel screen is a sort of widely used classification equipment in sorting technology and is commonly used for the screening of block and powder materials. Trommel screens are mainly used for the large-scale separation of large and small stones in the sand yard, and the separation of the soil and stone powder outside the stone, with high separation accuracy. Low working environment requirements and different types of equipment can be customized according to different material requirements to meet different production needs.
The trommel screen is mainly composed of frame, transmission motor, discharge hopper, transmission cover, drum, and other components. The drum is its main structure, placed 3°-5° from the horizontal.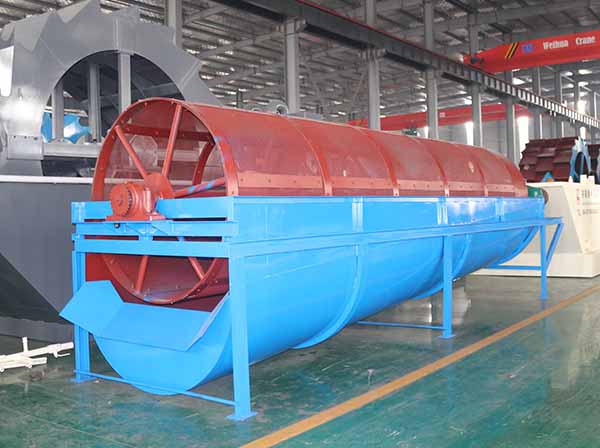 Application
1. Used for grading large and small stones and removing soil and stone powder in the sandstone yard.
2. Used for sand and stone separation in the sandstone yard.
3. Used in the coal industry to separate lump coal and coal powder and wash coal.
4. Used for the classification of large and small lumps and the separation of powdery substances in the chemical industry and mineral processing industry.
Trommel screen installation
1. Embedding steel plate. Before installation, the steel plate should be embedded according to the installation drawing. The embedded steel plate should be on the same plane.
2. Installing the screen part. Determine the installation position of the screen body according to the position of the inlet and outlet of the equipment. And adjust the installation angle of the screen body to the design angle.
3. Rotate the drum sieving drum, there must be no excessive resistance or stuck phenomenon, otherwise, it should be promptly investigated and adjusted.
4. After the drum screen is shipped from the factory, if it is installed more than 6 months, the bearings of the large shaft must be removed and cleaned before installation, and new grease is injected.
Trommel screen maintenance inspections
1. When starting the machine, the drum screen must be turned on first, and then the feeding equipment must be turned on.
2. When the equipment is shut down for a long period of time (more than 30 days), the motor insulation should be shake-tested to avoid burning the motor.
3. In the first few days of operation, the drum screen fasteners should be inspected daily, and if loose, they should be tightened in time. In the future, it can be inspected and processed regularly (weekly or half-monthly).
4. Bearing seats and gearboxes should be regularly inspected for lubrication and refueled and changed in time.
Related Products
Send us a message
We will provide you with the most professional services.