The hydrocyclone sand washing machine can extract and recover more than 95% of the fine sand or ore in the wastewater discharged from the sand washing plant, without additional water. The recovered fine sand is directly mixed into the finished product pile or stored separately, so that the resources can be reasonably used, and more than 15% of comprehensive economic benefits can be recovered for customers. Hydrocyclone sand washing machines are widely used in sand and gravel processing plant, hydropower station, glass raw material processing system, artificial sand production line, coal preparation plant, coarse slime recovery, and slurry purification, etc.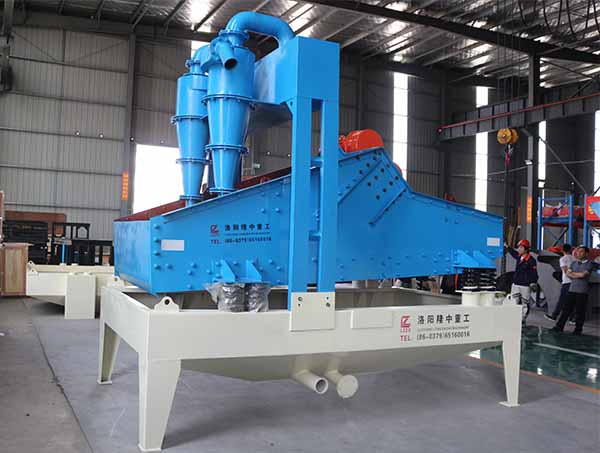 The excessive fine sand discharge will seriously affect the gradation of sand, resulting in unreasonable gradation and coarser fineness modulus, which greatly reduces the quality of manufactured sand. Will also cause environmental pollution. The use of this desander hydrocyclone sand washing machine can effectively reduce the loss of fine sand and keep it within 5-10%, which can effectively reduce the stone powder content in the tailwater. It solves the problems of high fineness modulus of finished sand and low stone powder content in the artificial aggregate processing system.
What's the hydrocyclone sand washing machine working principle?
The hydrocyclone sand washing equipment is composed of motor, slurry pump, cyclone, linear vibrating screen, washing tank, and return box. The slurry pump transports the sand-water mixture to the cyclone. After centrifugal concentration, the fine sand is classified and supplied to the vibrating screen through the grit nozzle. After the vibrating screen is dehydrated, the fine particles are effectively separated from the water. So as to complete the three functions of cleaning, dehydration and classification. Adjusting the fineness modulus can be achieved by changing the pump speed, changing the mortar concentration, adjusting the overflow water volume, and replacing the sand nozzle.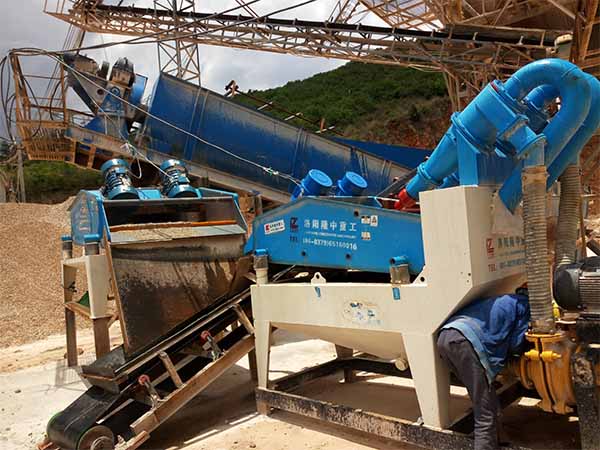 Other applications besides sand production line
1. Electricity: the high-quality sand and gravel produced by hydrocyclone sand washing machine is of great significance to the construction of hydropower stations.
2. Road construction: dry-mix mortar is the foundation of road construction. The hydrocyclone sand washing equipment is indispensable equipment for dry mortar produced by machine-made sand, and it can also reduce the problem of construction waste.
3. River sand washing: the cleaning and recycling of river sand are inseparable from the fine sand recycling machine. The processed finished materials are not only clean but also good in grain shape.
Related Products
Send us a message
We will provide you with the most professional services.