A new environmental protection river pebble production and washing production line was build in Sri Lanka by an enterprise in early September. In this scheme, the river sand pebble is cleaned and recycled, and the sand washing tailwater is reused. At present, the project has been officially put into production.
River pebbles are hard in texture, wear-resistant, stable in chemical properties, rich in resources, and their composition is very close to natural sand. It is not only an ideal green building material, but also a good alternative to natural sand. However, the machine-made sand after broken river pebbles contains a lot of impurities, so it needs to be cleaned to reach the standard for construction sand.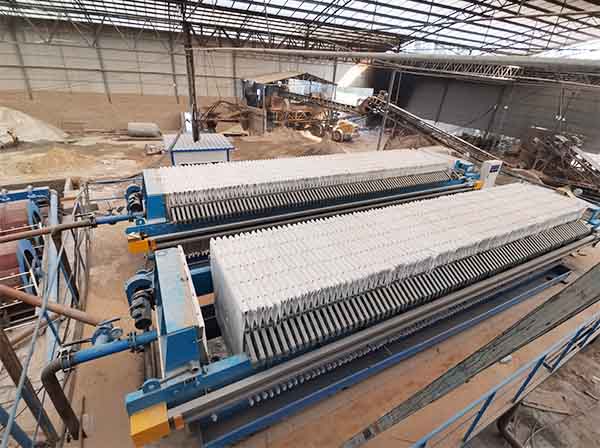 Project overview on site
1. Raw material: river pebble
2. Output of finished products: 100T/hour
3. Total water volume of the system: ≤100m³/h
4. The solid content of tailwater: ≤15%
5. Equipment configuration: 2LZ30-75-1842D two-wheel sand washing and recycling integrated machine, S-3060 trihydrogen purifier, G250-125 chamber filter press
Working process
Washing
The double-wheel sand washing machine cleans the crushed machine-made sand, which can effectively reduce the mud and powder content and other problems. The machine combines the functions of sand washing, dewatering, and fine sand recovery. Especially highlight the sand washing function. The whole machine adopts tandem double impeller for sand washing operation. After the sand and gravel aggregate is cleaned by the impeller, the coarse sand is separated from the fine sand, mud, and water. The coarse sand is cleaned and simply dehydrated and then enters the second impeller to be cleaned again. The second cleaning effectively reduces the mud content compared to the first impeller cleaning.
Mud and water separation
The thickener uses the principle of fluid mechanics. The suspended matter settles into the conical sludge bucket at the bottom of the pool under the action of gravity, and the clear water overflows and is discharged from the upper end. The discharged clear water can meet the discharge standard and can also be reused.
Mud press and dry discharge
The chamber-type filter press presses the thick sludge of the trihydrogen purification body into a mud cake to achieve a dry pile, which can be loaded and transported out of the car.
Related Products
Send us a message
We will provide you with the most professional services.