The dewatering screen is mainly used for dewatering, desliming, desilting, and grading of granular and powdery materials in coal, aggregate, plaster, and other mineral processing industries. The dewatering vibrating screen adopts a new high-strength frame structure, which has the characteristics of advanced structure, sturdiness and durability, high output, low noise, convenient maintenance, low energy consumption, and automatic discharge.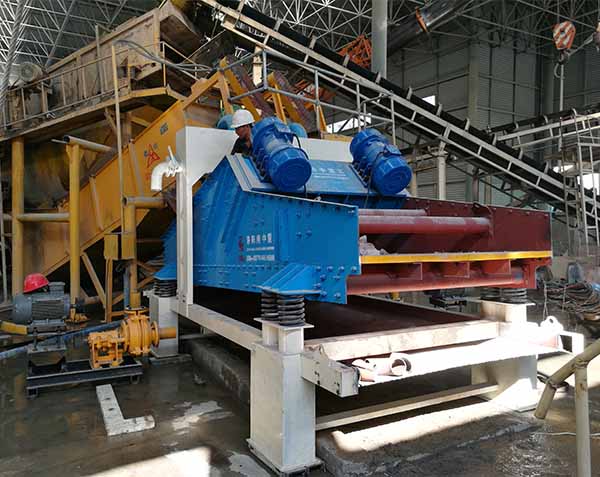 Application: widely used in coal, aggregate, plaster, hydropower, mining, building materials, chemicals, abrasives, and other industries.
Applicable materials: suitable for the dehydration of various materials.
Dewatering vibrating screen is divided into vibration motor type and vibration exciter type. The vibration motor type dewatering screen adopts dual-motor self-synchronization technology, and the exciting force can be adjusted by adjusting the motor eccentric block. The vibration exciter-type dewatering screen drives two unconnected vibration exciters through a belt coupling to perform synchronously and reverse operation so that the screen box performs a reciprocating linear motion.
Features
1. Good dehydration effect, the water content of finished products is between 12%-15%.
2. Large screen surface and large processing capacity per unit area.
3. Professionally designed frequency, amplitude, suitable for various dehydration needs.
4. The amplitude can be adjusted to achieve the dehydration effect.
5. Simple structure, the screen surface is installed at a negative inclination angle, convenient to maintenance, low noise, and low energy consumption.
6. Besides the polyurethane screen panel, stainless steel composite screens can also be selected to effectively ensure that the characteristics of the materials remain unchanged.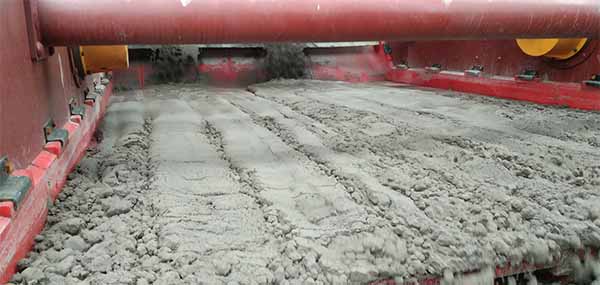 How to improve the dehydration efficiency of the dewatering screen?
1. Vibration exciter type dewatering screen should be selected for materials with small water content and large particles. The feature is that large particles can easily jump through the sieve to avoid blocking.
2. Vibrating motor type dewatering screen should be selected for materials with large water content and small particles. Due to the high frequency and fast speed, the material can run quickly and straight to avoid sticking.
3. The material with higher viscosity should be equipped with the spray device. The second washing in the second half of the dewatering screen can reduce the cohesiveness of the material and increase the washing function to obtain the dewatering effect.
Related Products
Send us a message
We will provide you with the most professional services.