Processing material: granite
Processing capacity: 200t/h
Equipment configuration: jaw crusher, impact crusher, circular vibrating screen, sand washing machine, belt conveyor.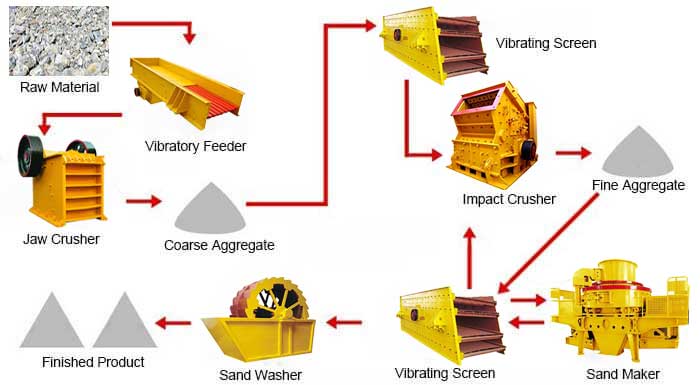 Granite sand production line
Granite is a kind of sharp lens stone, mainly composed of quartz, feldspar, and mica. The feldspar content is 40%-60%, and the quartz content is 20%-40%. Its color depends on the type and quantity of the ingredients. The high-quality granite has fine and uniform grains, compact structure, high quartz content, and bright feldspar.
Granite sand production and washing line working process
Process configuration
Granite, vibrating feeder, jaw crusher, impact crusher, vibrating screen, belt conveyor.
Working process
The granite is uniformly fed by the vibrating feeder to the jaw crusher for primary crushing. After the initial breaking, the material is conveyed to the impact crusher by the belt conveyor, and crushed by the impact crusher (medium and fine crushing). Then the circular vibrating screen is used for screening, and the large particles are returned to the impact crusher to be broken again. Qualified materials are classified according to requirements and enter the sand washing machine for cleaning and impurity removal. Finally, the finished materials are conveyed by conveyor belts to different storage piles for storage or directly transported by trucks to the construction site.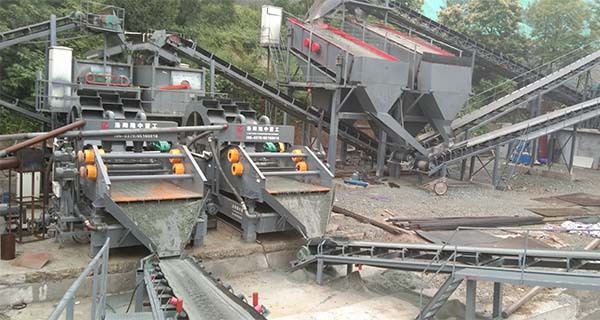 Granite sand production and washing line advantages
1. The entire production increases by 25%-40%, and the loss is small. The finished products are mostly cube-shaped with uniform particles, which can obtain higher economic benefits.
2. High economic efficiency. This production line meets the increasing requirements of customers for the quality of finished granite products. According to different process requirements, various types of equipment are combined to meet the different process requirements of customers.
3. The high degree of automation, low operating cost, high crushing rate, less pollution and easy maintenance.
4. Good sealing performance, reaching the national dust emission standard.
Related Products
Send us a message
We will provide you with the most professional services.