The dewatering vibrating screens in Sri Lanka are widely used in industrial sectors such as coal preparation, ore dressing, electric power, sugar making, salt making, etc., to carry out dry and wet classification, dehydration, de-intermediation, and desliming of medium and fine-grained materials. The movement track of the dewatering vibrating screen is a straight line. The dewatering vibrating screen has large processing capacity and high screening efficiency. It has the characteristics of large processing capacity, sufficient dehydration, remarkable technical and economic effects, and wide application range.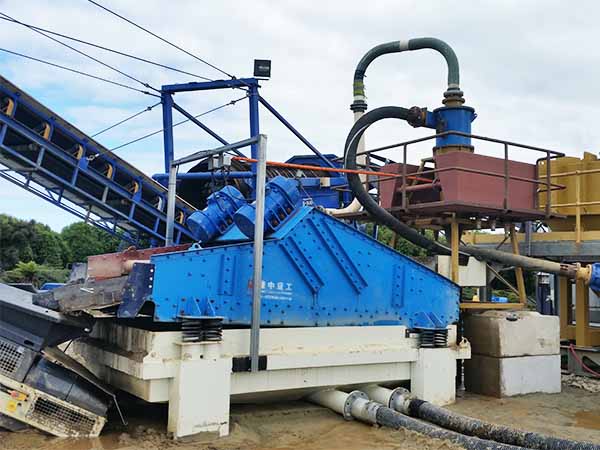 The dewatering screen adopts the dual-vibration motor self-synchronization technology on the vibrating device, which has a compact and firm structure and long life. It overcomes the traditional block eccentric vibrator's huge structure, oil leakage, large wear, large noise, and cumbersome maintenance. The high-efficiency multi-frequency dewatering screen uses rubber springs for shock absorption. Its main features are oxidation resistance, long life, and good cushioning effect. The side plate of the screen box is pasted with wear-resistant rubber plates to ensure that the screen frame is not damaged by wear. The wear-resistant polyurethane combined screen is equipped, which has a life span of 3 to 10 times that of the traditional metal screen. At the same time, it avoids the direct collision between the metal frame of the screen and the ore, reduces noise and improves the working environment.
Dewatering vibrating screen features
1. The sieve is installed at a negative angle to ensure the dehydration effect.
2. The stainless steel composite screen or stainless steel welded seam screen can be equipped, tensioned installation, compact installation, to meet different needs.
3. The vibration frequency can be adjusted at any time through the inverter to achieve the best dehydration effect.
4. The high-strength bolt connection is adopted to ensure the reliability of the screen machine and the reduction of working noise. The working noise of the whole machine is 85dB(A), which is about 15dB lower than similar screen machines.
5. The arc screen surface is set in the feeding section to improve the dehydration efficiency.
6. Equipped with an integral chassis for easy handling and installation.
7. Rely on the filter layer on the sieve to retain fine particles and backlog dehydration.
Related Products
Send us a message
We will provide you with the most professional services.