The 300t/h dewatering screens at the best price are sand dehydration and tailings recovery operation equipment, which is widely used in the recovery of tailings, fine sand, slime, press filter, filter, and other very fine materials dehydration and recovery processes. In the Malaysian mineral industry, 300t/h dewatering screens are widely used and are one of the indispensable pieces of equipment in the sand and gravel industry. How about the price of the 300t/h dewatering screen in Malaysia? The following article will analyze it for everyone.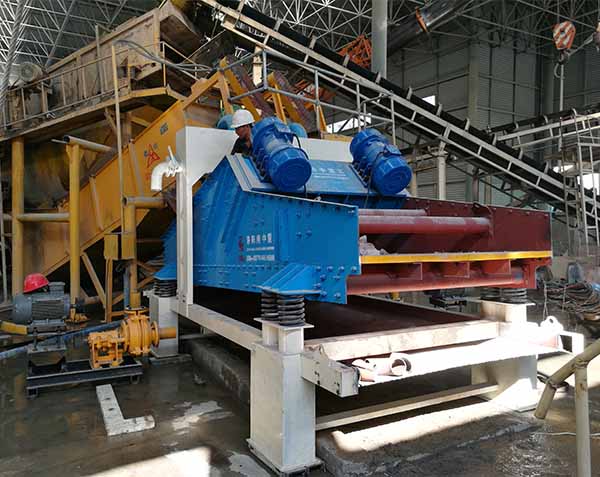 Classification of dewatering screen
Linear dewatering screen
Generally, the linear dewatering screen is installed inclined to facilitate more effective dewatering and discharge of the material on the screen. If the inclination angle is too small, the moving speed of the material on the screen surface is too slow. Although the screening efficiency is high, the productivity of the linear screen is reduced. On the contrary, if the inclination angle is too large, the material will be discharged too quickly, and the screening efficiency will be reduced. Therefore, the inclination of the screen surface should be appropriate.
Vibrating dewatering screen
The vibrating dewatering screen has the advantages of high screening accuracy, large processing capacity, simple structure, low energy consumption, low noise, long screen life, good sealing, no dust spillage, and convenient maintenance. The price of the dewatering screen is affected by many factors. Vibrating dewatering screens are divided into multiple models, and users should choose the appropriate model according to the requirements of process and output. If an inappropriate model is selected, it will affect the screening efficiency or reduce the screening output. Therefore, you must be cautious in the linear dewatering screening type, because the dewatering screens that screen in different directions of movement are completely different in handling the screening problems.
Some problems in production and solutions
1. The height of the discharge port can be increased or a hole can be opened at the baffle of the feed port to make the excess water flow into the water tank when the dehydration effect is not up to the requirements,
2. When the underflow port of the cyclone has too much water, the size of the underflow port can be changed to meet the requirements.
3. When the dewatering screen is unstable, you can check whether the spring base is consistent, or whether the eccentric block of the vibration motor is on the same scale.
4. If the finished sand is of poor quality, clean water can be added to dilute the mud during production to achieve good results.
5. During production, the equipment is regularly overhauled and maintained, and the components are tightened.
Invariably, different types of 300t/h dewatering screens have different prices. You can buy 300t/h dewatering screens at different prices according to your needs.
Related Products
Send us a message
We will provide you with the most professional services.