Raw material: quartz sand
Feeding size: 0-6mm
4-6mm about 30%
0.075-0.2mm and clay about 15-20%
Clay content about 10%
Output and capacity about 250t per hour
The total water volume of this system is about 400m³/h
Requirements
Output size: 0.075-4mm
The clay content of finished products as low as 2%-3%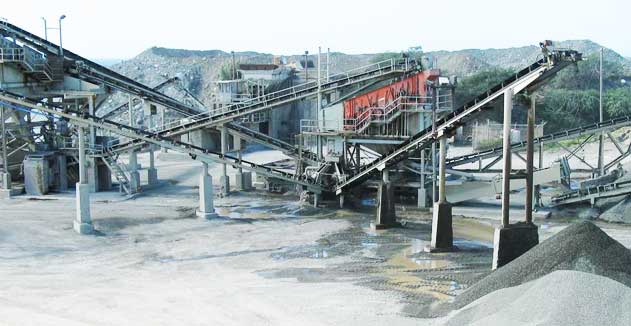 Equipment configuration
1. Vibrating feeder
There are two types of vibrating feeders: suspended type and grate type. The suspended vibrating feeder is equipped in this process with stable performance, low price, and small floor space.
2. Screening equipment
Screening equipment generally adopts a circular vibrating screen or drum screen. The drum screen is selected here, and the screen hole configuration is 4mm. With high screening efficiency and large processing capacity, it is suitable for middle, large particle size screening. When the drum screen is equipped with a spray system, it can also be used as a stone washing equipment. With the help of hydraulic washing, the stones roll and vibrate on the screen surface, which makes it easier to wash off the fine mud adhered to the surface.
3. Sand washing, fines recovery equipment
In this plan, the scrubbing machine is selected for the washing of mud powder and stone powder in 0~4mm products. The back is equipped with a fine sand recovery system to recover 0.075-3 mm materials. The recovery rate of the fine sand recovery machine can reach 95%.
4. Muddy water treatment equipment
The muddy water after sand washing needs to be treated to achieve zero discharge and clean water recycling. The treatment of wastewater and mud by the thickener and filter press system avoids the disadvantages of large area and difficulty in cleaning the sedimentation tank caused by the direct discharge of mud-containing wastewater into the sedimentation tank.

250Tph quartz sand processing process
1. Feeding
The materials are evenly conveyed from the hopper to the drum screen by the feeder through the belt conveyor.
2. Screening
The materials are continuously rotated and stirred with the drum screen cylinder to screen out materials larger than 4 mm. The trommel is also equipped with the spray system for initial cleaning to achieve the purpose of separating soil and sand.
3. Cleaning, dewatering and fines recycling
The part that smaller than 4mm enters the scrubber for cleaning then enters the dewatering screen for dewatering. After dewatering, the water content is as low as 12%-15%. The sand water mixture is sent to the cyclone by the slurry pump to recover the 0.075-3mm fine particles and then enters the dewatering screen for dehydration. Then the finished materials of 0.075-4mm are conveyed to the stack by the belt conveyor.
4. Muddy water purifying
After the dosing treatment, the muddy water enters the thickener to be concentrated. The concentrated upper-layer clear water flows into the clear water tank and is recycled to the production line through the clear water pump. The lower mud is pumped to the filter press. The press-filtered mud cake waste is stored separately in the mud cake shed for reclaiming after mining.
Related Products
Send us a message
We will provide you with the most professional services.